Precision Metal Manufacturing (PMM) is a small, American, U.S. veteran-owned fabrication business located in Mesa, AZ.
Sean Derivan, Owner and President of PMM, has been in the fabrication business for his entire career, starting out in a small fabrication shop in Ohio more than 30 years ago.
Sean started PMM in Mesa in 2007, and today, PMM has a reputation for outstanding customer service and precision quality. PMM offers services to a wide variety of industries from start to finish, including design, prototyping, finishing and assembly. PMM offers full service CNC, product design assistance, SolidWorks 3D design, and Bend-Tech tube design software for a range of metals including aluminum, stainless and carbon steels. They fabricate metals in plate, sheet, bar and shapes including saw cutting, hy-definition plasma cutting, bending, forming, crowning, shearing, welding (MIG, TIG, Spot) and finishing and deburring.​
Ramping Up Efficiency
In early 2021, PMM installed an AKS accu-kut 6'x24' with XPR 170 VWI torch. The new AKS table is six feet wide by 24 feet long and replaced an Arc Cutting Pro table with Thermal Dynamics torch.
"This new AKS table is just fantastic," Sean said. "I hit the button and it goes and goes and goes. We've been running it every day since we installed it. We no longer are bogged down with small hiccups like the old machine — this new AKS is so robust and rugged."
The accu-kut proved to be the right choice over previous machines, not only for its accuracy, but also for its efficiency.
"On the old machine, we had to have the operator sit by the machine and be ready to press the e-stop button to stop the machine upon a pierce gone wrong," Sean said. "The cut quality was not adequate, but we just had to accept it by deburring and grinding off the dross on every part."
Ironically, Sean first visited AKS several years before and desperately wanted to buy the AKS accu-kut back then. But knowing his budget was limited, he chose the lesser-priced brand. Unfortunately, that machine didn't perform as promised and he decided to buy his dream machine from AKS.
"The AKS table is an absolute work of art," he said. "In my humble opinion, AKS builds the best cutting system on the market. I look forward to many, many years of service from this machine."
Teaming up with AKS has been a smooth process for PMM from the start. With a focus on good communication and process, AKS was able to get PMM's new machine up and running quickly and seamlessly.
"With AKS, every single stage of the whole process was expertly handled, from sales and the proposal process, to financing, to build and shipment and delivery. Then once we received it, the AKS Service Department has been excellent. Every time I call, I get answers to all my questions. The AKS Service Department was essential to ease the transition to get the old one out and the new one in."
PMM's current projects include sheet metal architectural cutting and processing to be installed at a local church. This project includes more than 150 full size 4'x8' sheets of architectural steel uniquely designed and plasma cut to enhance the church lobby foyer. These steel panels are 4'x8' and 3/16" thick. They are loaded three at a time lengthwise on the AKS 24-foot-long table, and while one is being cut, the other two are loaded and unloaded.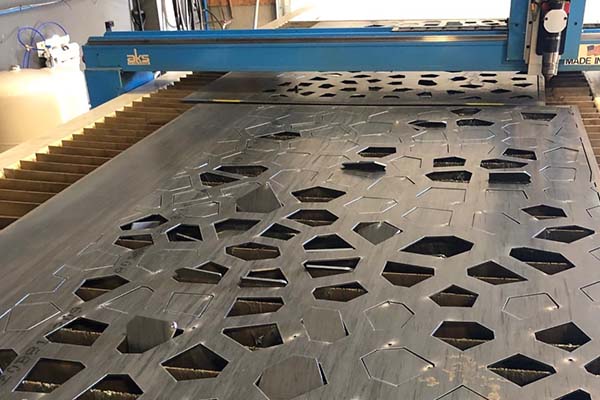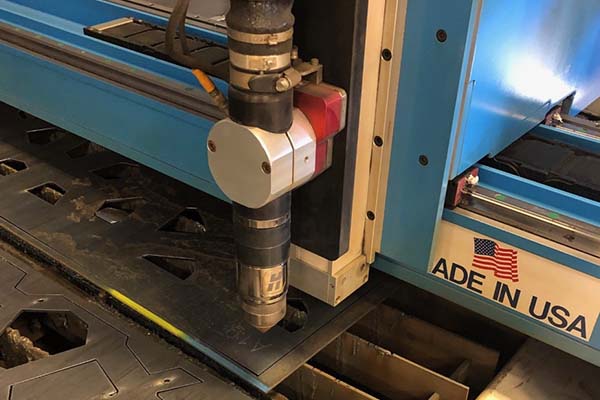 These panels are all singularly unique and must be numbered and marked to be installed in the right order and location upon on-site installation. PMM used the accu-kut XPR VWI argon marking capability to mark each of the panels to ensure it is installed in the proper location
AKS Cutting Systems is a fourth-generation family-owned and operated, made-in-the USA manufacturer of plasma, waterjet, oxy-fuel and fiber laser cutting systems. Since 1912, AKS Cutting Systems and its parent company, Kiffer Industries, has been on the forefront of machine tool design and build from our factory and headquarters in Cleveland, OH, in the heart of the rust belt manufacturing region.
For more information on Precision Metal Manufacturing, please see azpmm.com or call (480) 987-2466.
Header photo – Left to right: Kent Phillip, AKS COO and VP Operations, Mike Burns, AKS Director of Sales & Marketing, Sean Derivan, PMM Owner & President, Miles Mooneyham, AKS Regional Sales Manager, and Stephen Hernandez, PMM Shop Technician.