NOVA Automation, in Denver, CO, is known for solving complex automated packaging challenges.
For more than 25 years, NOVA Automation has manufactured innovative solutions in automated packaging systems for a wide range of industries including bulk foods, mining and materials, lawn and garden, building materials, agricultural seed and feed, pet food, produce, and chemicals and plastics.

The company's expertise spans automated packaging technologies for many applications, such as bulk material transfer, weighing and filling, bulk bag tote fillers, automatic bagging, conventional palletizers and robotic palletizers, robotic case loading and pallet wrapping. They offer the complete solution from design to build to support and service.
Most of NOVA's automation systems are made from stainless steels, mild steels and aluminum. Additional materials for special applications include plastic, nylon, plexiglass, UHMW, Delran, and more. These specialty materials, mostly non-metal, are all cut on waterjet machines. But for the metal parts, NOVA needed a reliable cutting technology to meet precise requirements.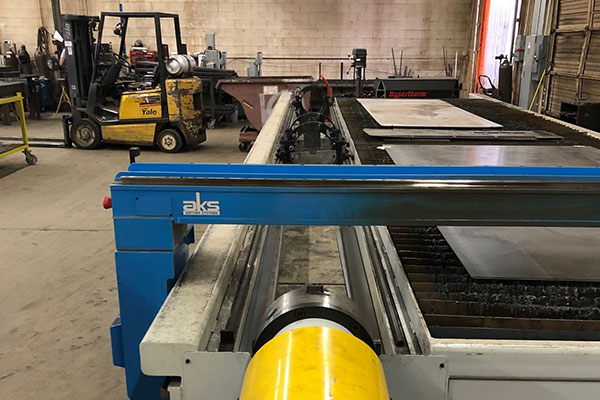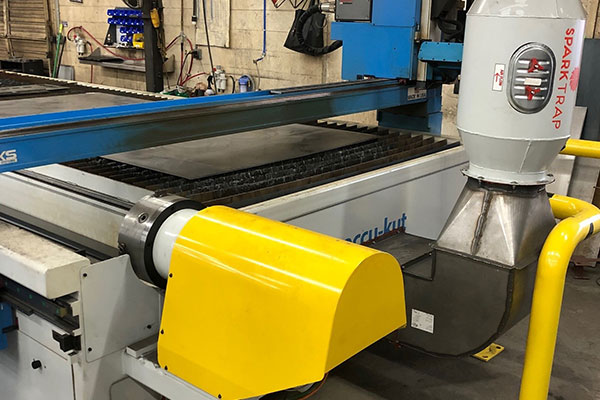 In 2020, NOVA installed an AKS accu-kut 8'x24' X-Definition Plasma Cutting Table with a Hypertherm XPR300 torch to meet the challenges of cutting their metal components. Their AKS accu-kut table utilizes the AKS robo-kut 5-axis bevel head unit, which expertly cuts the small precision holes, hexagon holes, various slots and precise geometry required for manufacturing of the NOVA conveyor system side rails and base plates.
Their AKS accu-kut also includes the AKS tube-kut 6th axis rotary unit accessory for tube and pipe cutting. NOVA executes argon marking using an XPR VWI (Vented Water Injection) Gas Console. The VWI gas console has an argon input, which is commonly used for plasma low amp marking onto their stainless and mild steel parts.
Precision is Paramount
The AKS robo-kut cuts perfect hexagon holes for their long side rail sections, which house the conveyor roller assemblies and cuts long slots required for length adjustment. These side rail units are made from channel sections, which are usually very difficult to plasma cut, because of the interference of the torch nozzle inside the channel. With the AKS robo-kut NOVA is able to expertly manipulate around the channel wall and C shape to cut required shapes, holes and slots.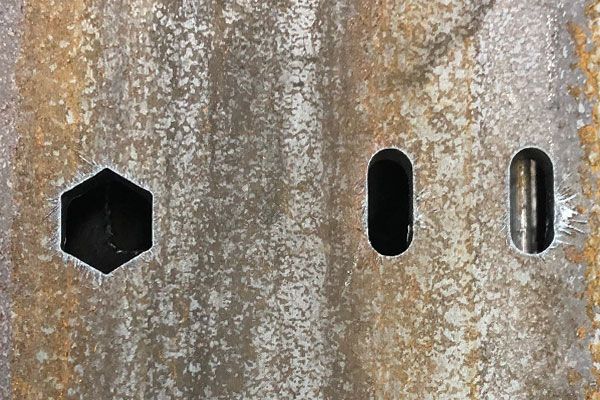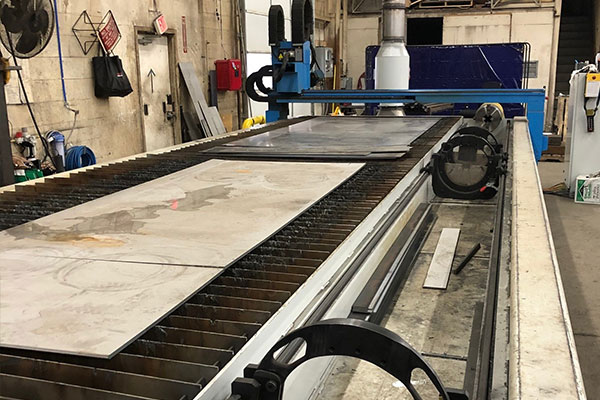 NOVA also added a Hypertherm PowerMax125 torch to their AKS accu-kut table, which they use for plasma cutting of expanded metal and grating type material. The PowerMax torch does not rely on the Torch Height Control technology as the XPR torch does, and can be set to a consistent height to cut through inconsistent materials like expanded metal, perforated metal, and mesh materials.
For more information on NOVA Automation, please check out their website at novaautomation.com or call (303) 495-5010.